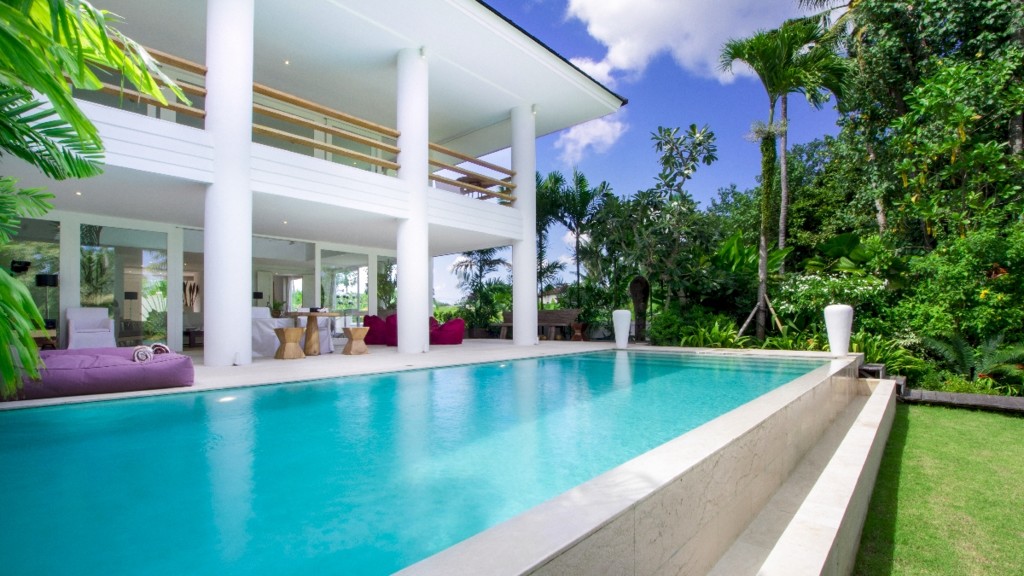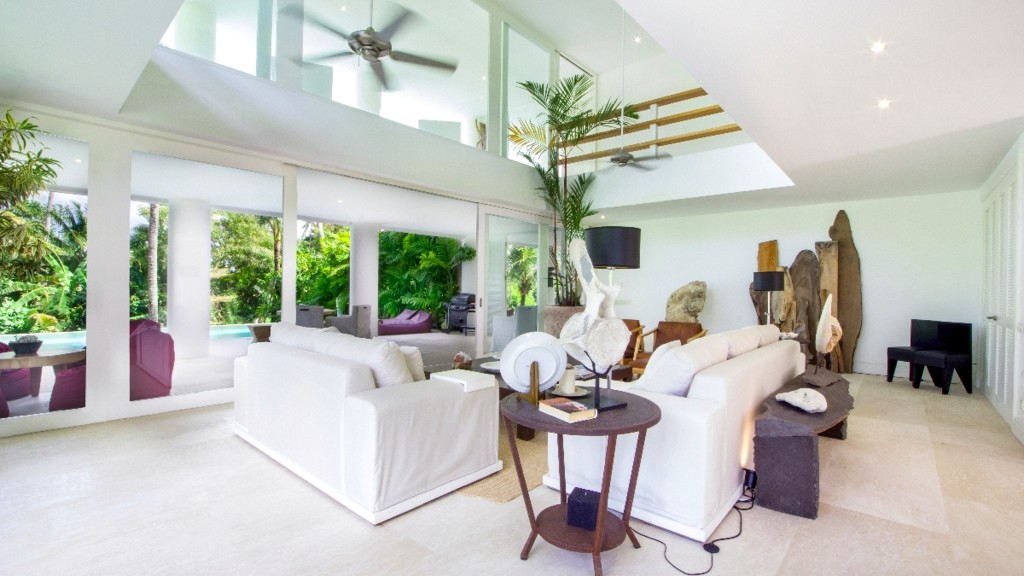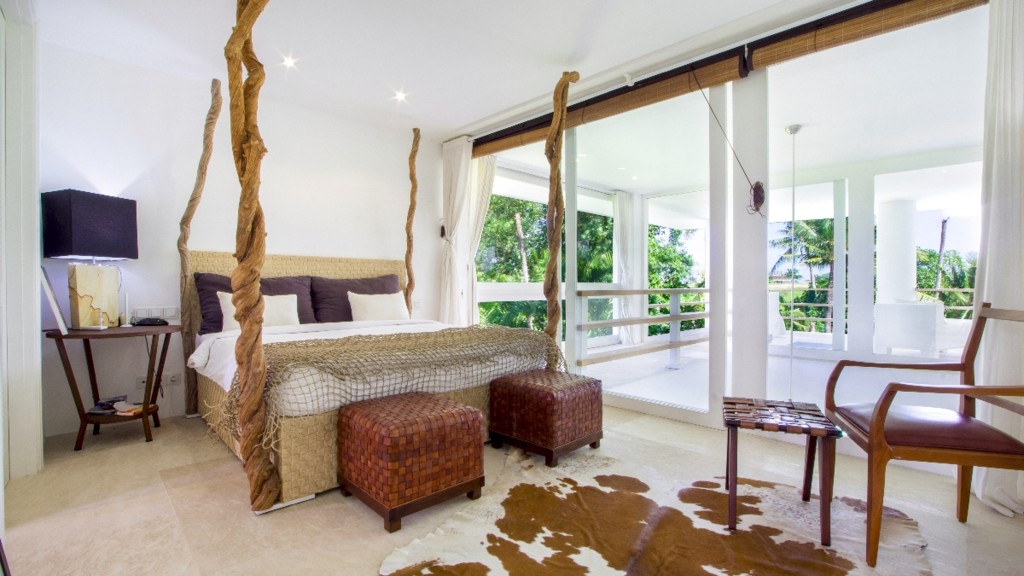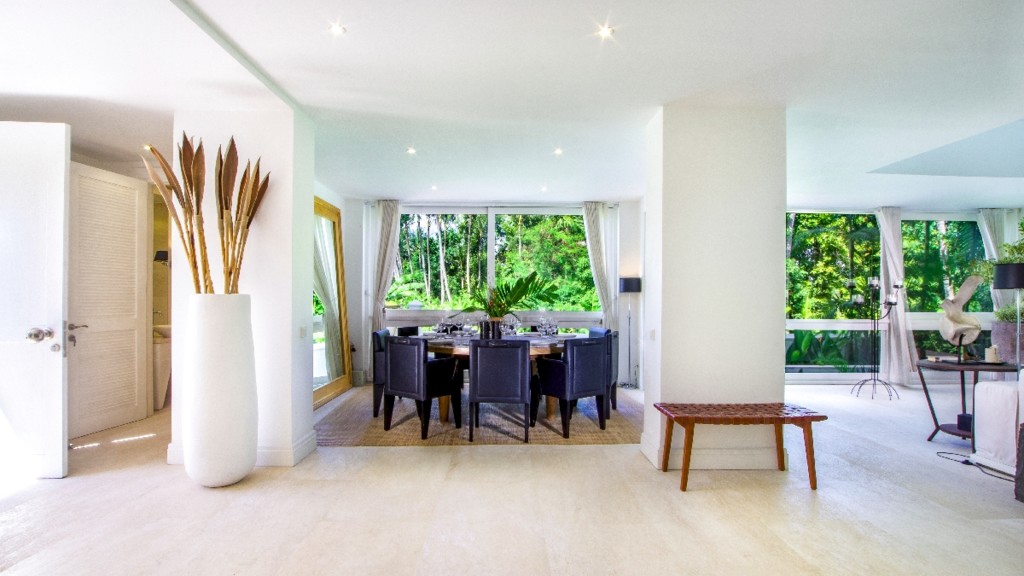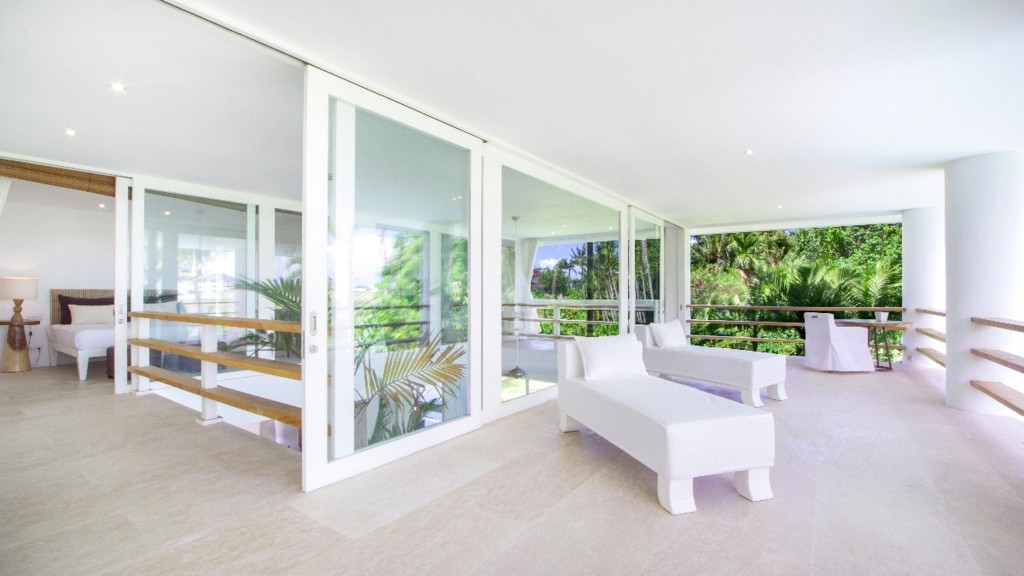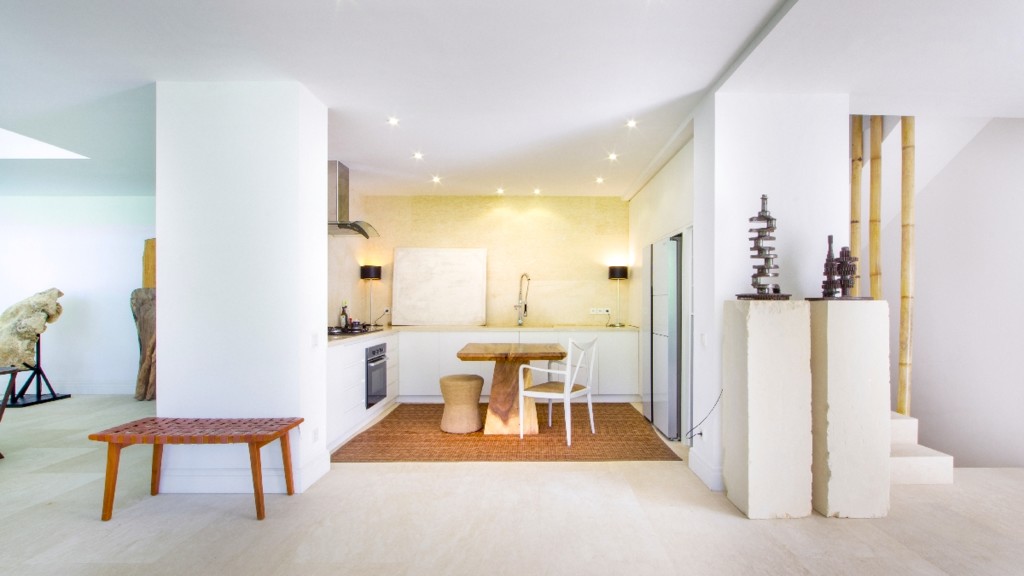 About Villa Venus Uno
Villa Venus Uno is a stately vacation residence rising along the river and amidst the legendary rice terraces of Canggu. Although built around a rural setting by the acclaimed architect Stefan Dorata for renowned race car driver Nico Caldarola, this colossal structure features contemporary and innovative architecture and design. With a predominantly white color scheme throughout, elegant, luxurious and stylish interiors as well as masterfully laid out exteriors, Villa Venus Uno is truly a showcase of class, sophistication and taste.
Outdoor And Pool Area
The expansive outdoor area was carefully planned to let you enjoy the surrounding natural environment to the fullest. By the running river is a long wooden deck with the villa's temple at one end. Here, cushioned rattan chairs can be arranged around a wooden table so you can sit back or dine under coconut trees with a sloping verdant lawn as the backdrop. A few steps up will take you to the 10-meter
infinity pool
. Immerse yourself in its alluring and cool waters for a soothing dip, aimless wading or splashy fun. From the swimming pool, you can lie on one of the
pool beds
or lazily lounge on the wooden bench for some sun. Under the covered terrace, you can also settle comfortably as you sip your favorite beverage or drink.
The Living Area
Indoors, right from the swimming pool and covered terrace is the airy and spacious
living area
with its myriad decor of handcrafted as well as natural woody artworks and artifacts. Around the large and long couches and chairs, you can all find your cozy spot as you converse and look out to the lush and relaxing scenery. In a separate room behind the living area is the
dining area
with a round wooden table good for eight – although additional seating can be provided should the need arise. Here, you can sample authentic Balinese cuisine as well as international favorites especially prepared and freshly cooked by the in-house chef at the fully-equipped, ultra-modern
kitchen
set up in a separate section behind the dining area.
The Bedrooms
The villa has
five bedrooms. Two master suites
are on the second floor. These bedrooms are made more spacious by floor-to-ceiling glass walls with a view of the living area below. Each master suite opens out to a suspended walkway above the living area leading, through glass doors, to a long and furnished balcony overlooking the swimming pool, the river and the distant landscape.
Three junior suites
are on the ground floor. All have large windows with views of the tropical garden. Both master and junior suites all have king-sized beds, walk-in closets and dedicated bathrooms.
Staff And Services
On duty to carry out the regular services at the villa is a housekeeper, a gardener, a pool attendant as well as security personnel. Aside from the personal chef, a babysitter, a driver, a laundry helper and a spa therapist may be called in upon your request. Their services, however, will be charged separately. A car and a scooter are also available for rent.
Around Villa Venus Uno
Villa Venus Uno is close to
Pantai Batu Mejan or more popularly known as Echo Beach
– one of Bali's surfing hotspots. Aside from its advanced reef breaks, Echo Beach is also famous for its beautiful seascape, bountiful seafood and breathtaking sunsets. Along the shore are seafood cafes and sunset dining places such as
Sticky Fingers, Osteria Italiana, Sate Bali, Dian Cafe and Echo Beach House
which offer barbecues and boat-shaped buffets. Another spot to catch the magical sunset is
Tanah Lot
– an ancient, offshore shrine that rises above the sea. Considered one of Bali's most important landmarks, the temple also has an onshore cultural park where traditional dances are regularly performed. One other must-see attraction is
Nirwana Golf Club
with its scenic 18-hole course that winds through rice fields and cliffs with spectacular ocean views.
Click here to see all 34 villa pictures
Here are our availabilities for the next few months:
Minimum stay
4 bedrooms
5 bedrooms
from 11/01/2018 to 15/02/2018
Low season
3 nights

USD $

808

USD $

924

from 15/02/2018 to 22/02/2018
High season
5 nights

USD $

959

USD $

1,132

from 22/02/2018 to 27/03/2018
Low season
3 nights

USD $

808

USD $

924

from 27/03/2018 to 04/04/2018
High season
5 nights

USD $

959

USD $

1,132

from 04/04/2018 to 01/06/2018
Low season
3 nights

USD $

808

USD $

924

from 01/06/2018 to 01/07/2018
Mid-high season
3 nights

USD $

901

USD $

1,016

from 01/07/2018 to 01/09/2018
High season
5 nights

USD $

959

USD $

1,132

from 01/09/2018 to 01/10/2018
Mid-high season
3 nights

USD $

901

USD $

1,016

from 01/10/2018 to 20/12/2018
Low season
3 nights

USD $

808

USD $

924

from 20/12/2018 to 11/01/2019
Peak season
7 nights

USD $

1,185

USD $

1,358